In June, 2006, I went to China for a couple of weeks. Mainly, I was in Tianjin, but I also took a couple of side trips. Here are some pictures from my trip.
These students with their blue jeans and white T-shirts reminded me of the '50s days back in the U.S.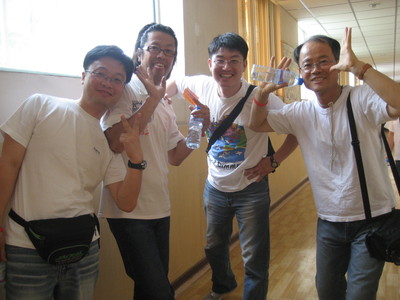 A Chinese picnic table with five seats.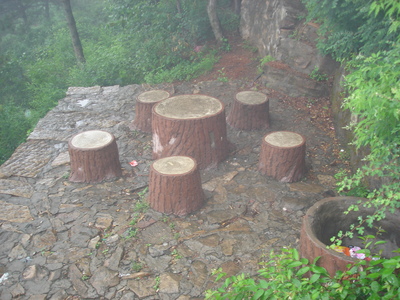 Chinese workman sweeping the highway. There were also automated street sweepers that had four of these brooms tied together on a little truck.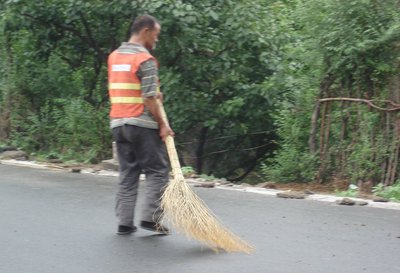 Statue of Chinese tortoise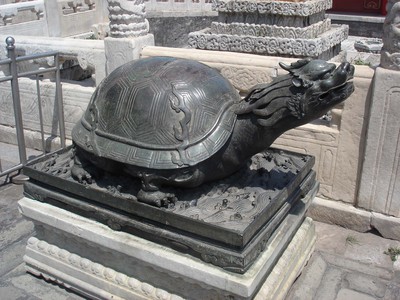 Statue of Communist workers outside of Mao Tse Tung's tomb in Tian'anmen Square.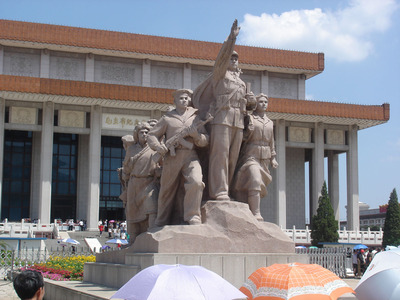 Here is a picture of me in a Beijing department store with the Friendlies, the mascots for the 2008 Beijing Olympics.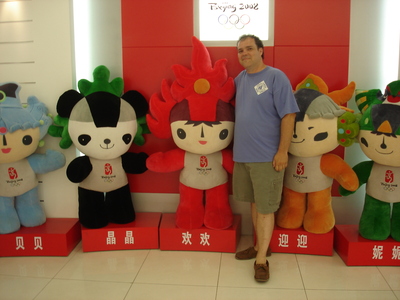 Here is a sign at the zoo.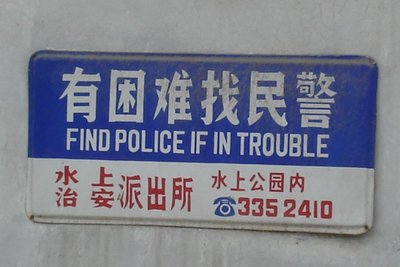 Throne at the Forbidden Palace.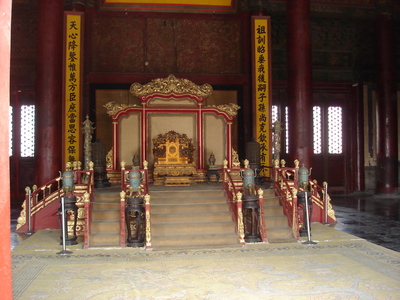 Here, a woman gives the hot dog a sip of water out of a cup.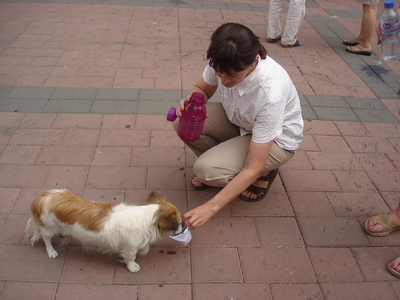 Goatherd driving his goats down the road.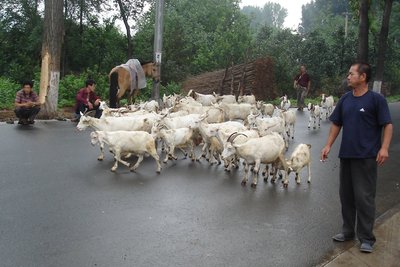 The Great Wall of China. I am told that the crowds at the Great Wall are normally quite large, but, it was drizzling on and off the day I went, so I and one American woman were the only tourists there that day. This picture was taken by the lone souvenir salesman at the wall that day.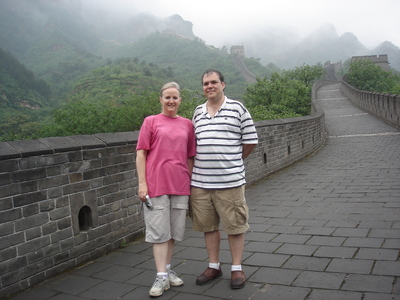 The Great Wall of China in the mist.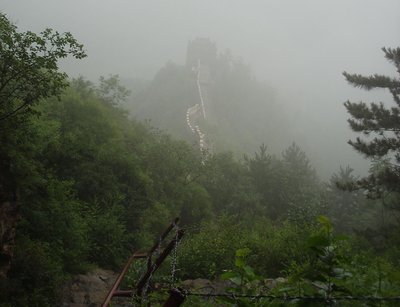 Holland section of the Tianjin Water Park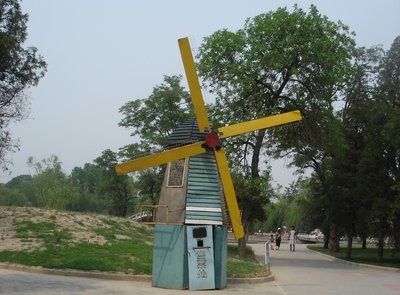 KFC shuttle in Beijing.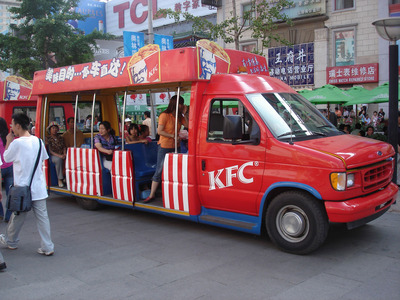 One day, we heard this man play is string instrument as the woman sang. You can also see and hear the music video.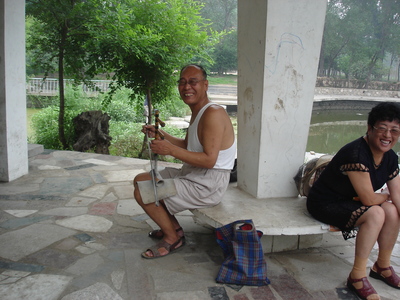 Musical instrument in Palace Museum (Forbidden City)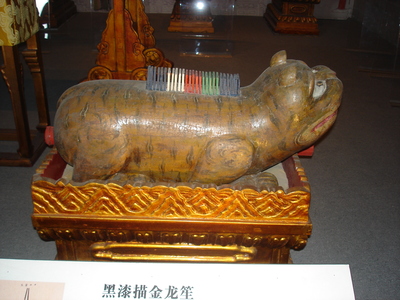 Beijing train station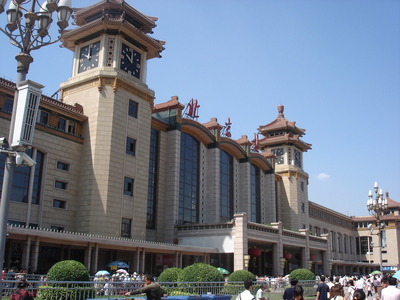 Here are the locked-up red pandas that I had to take a picture of through a high window above a locked door. I don't ever recall hearing of red pandas before. They are a bit smaller than the black & white pandas.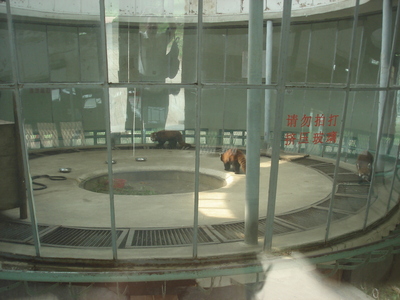 Chickens walking about on the brick sidewalk.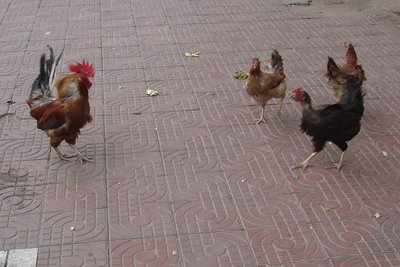 Butcher selling his meats on the sidewalk.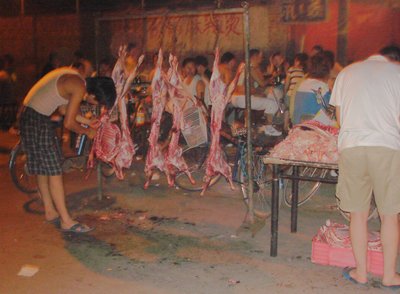 This fellow uses his three-wheeled cart to haul timber.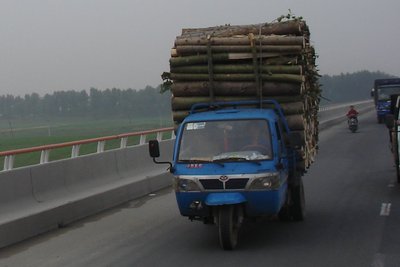 Tian'anmen, the gate to the Forbidden Palace in Beijing.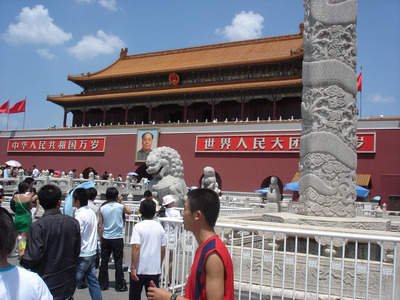 The sign for Tian'anmen.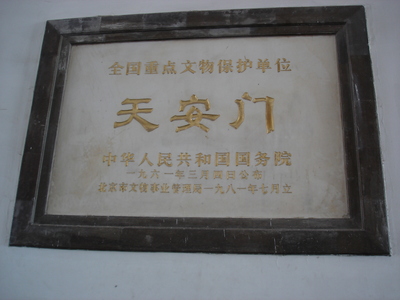 Culture Street market in Tianjin. I never went there, just went past it in a taxi.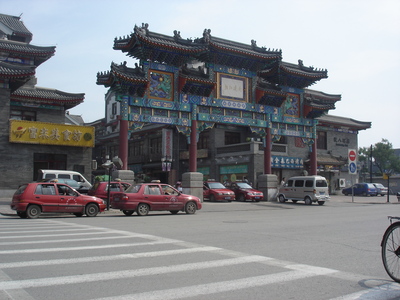 Here is the façade to the Tia

nj

in Peace Institute for Gl

obal Language Stu

dies.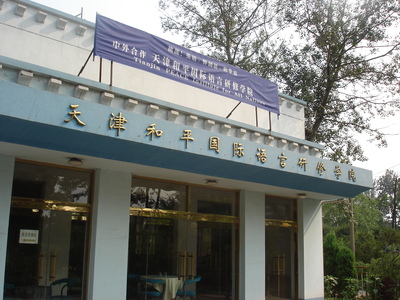 Singing in my cowboy hat