The Lawrenceville Community Theatre
presents
Jake James' dramatic adaptation of
A Christmas Carol
by Charles Dickens
featuring the acting talents of
 
Paul Smith as Turkey Boy & Schoolboy №5; Curtis Smith as Businessman №3 & Father; Joel Altherr as Ebenezer Scrooge; Ciro Manzari as Ghost of Christmas Present, Businessman №2, Mr. Fezziwig, & Charity Man; Lance Stinespring as Businessman №1, Ebenezer Scrooge (in his twenties), & Caroller №4; Lucas Smith as Brother, Child Street Caroller, Master Jonathan, & Ignorance; Brooke Simmons as Sister & Felicity; Jackie Mileson as Martha Crachit & Street Songstress №1; Emily Lawson as Wreath Seller, Miss Fezziwig №1, & Fred's party guest. Marque as Chestnut Seller & Fred's party guest; Erika Lemonds as Sara (Fred's wife) & Caroller №3; Hunter Mosley as Dick Wilkins, Suitor №2, & Topper; Brett Thomas as  Ebenezer Scrooge (age ten); Johnathan Wellham as Schoolmaster, Fiddler, Fred's party guest, & Undertaker's Man; John Kibildis as Mr. Crachit; Monica Duncan as Mrs. Crachit; Jon Dobson as Fred, Ghost of Christmas yet to Come, Caroller, Church Song Director, Suitor №3, & Fan's Husband; Michelle Barrington as Miss Fezziwig №2, Raucous Lady, & Fred's party guest; Ryan Kibildis as Blind Beggar & Master Job; Amy Lawson as Charity Woman, Cook, & Charwoman; Kenny Mosley as Poulterer & Warden; Nicole Schmutzer as Street Songstress №2, Caroller №2, & Laundress; Allen Tokarz as Peter Crachit; Carlee French as Belinda Crachit; Rachel Jones as Miss Belle & Fred's party guest; Dennis Womack as Ghost of Jacob Marley, Bill the Milkman, & Old Joe; C.J. McMinn as Miss Fezziwig 3 & Young Wife; Justin Manzari as Buckworthy (young husband) & Dick Wilkins; Keelie Hogan as Ghost of Christmas past; August Millison as Fan & Want; Cookie Owens as Mrs. Fezziwig, Woollens Seller; Becky Schmutzer as Story-Telling Mother; Faith Stone as Child №1; Grace Stone as Child №2; and Ansley Hogan as Tiny Tim Crachit.
 
also with the talents of
 
Dee Dee Allard, directrix; Heather-Leigh Nies, assistant directrix; Stacey Stone, stage manager; Lynn Mosley, backsgage manager; Pam Tokarz, microphone donner; Donna Chalmers, artistic directrix, costumer, & maker-upper; Scott Chalmers, set designer; Lee McWilliams, technician; Zach Jewell, stagehand; Janet Thomas, snack seller; and Caitlin Chalmers, make-up applicatrix & muse.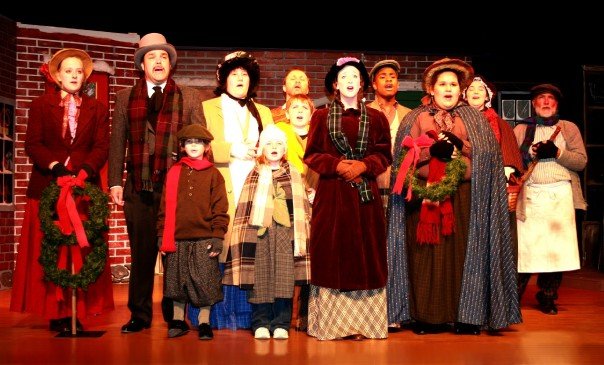 ---
Dear Gentle Web Peruser,
My son Paul and I both performed in the play A Christmas Carol performed December 6-9, 2007 (two performances on the 8th).
Performances were held in the Student Centre (Building G) of the Lawrenceville Church of God, 329 Grayson Highway (back entrance on Gwinnett Drive) in Lawrenceville, Georgia.
The play is a story about a grumpy and miserly man, Ebenezer Scrooge, to whom ghosts reveal secrets of times bygone and yet to come.
If you came and saw the production, I thank you greatly.
Love,
Curtis
Showtimes for "A Christmas Carol"
all shows performed at Student Center (Building G)
Lawrenceville Church of God
329 Grayson Hwy, Lawrenceville GA 30045
Thursday, December 6
public dress rehearsal
7:30 pm
donations accepted
Friday, December 7
7:30 pm
$10 ($8 for age under 19 or over 55)
Saturday, December 8
3:00 pm
7:00 pm
$30 (includes dinner)
Sunday, December 9
3:00 pm
$10 ($8 for age under 19 or over 55)
Tickets available from http://www.lawrencevilleonstage.tix.com. Unsold tickets will be available at the door.
Produced by special arrangement with THE DRAMATIC PUBLISHING COMPANY of Woodstock, Illinois.