Curtis the Actor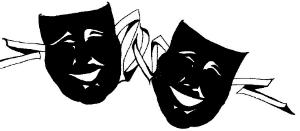 As many of my friends know, I am not really an actor, but I play one on the stage anyway. Actually, I'm not really performing in anything right this moment (duh—I'm editing my web page), but I love to act, yet I am not overwhelmingly amazing at it (just mighty amazing), so I am not the star too often (although some of my promotional material might lead you to believe I am always the main thing).
Here is a list of samples from my life's prior productions.
Kindergarten Graduation Parade (1968)

I was a horse.

Hänsel and Gretel (1975)

I sang the part of one of the gingerbread children in Humperdinck's opera Hänsel and Gretel performed at the DeKalb Community College in Clarkston, Georgia, for my largest audience ever of several hundred people.

High-school Talent Show (1979)

At my high school, I played a drunken cowboy in the background in a can-can dance routine.
I played multiple rôles in this my first production as part of the Good-News Players. (Details available)

The Tax Collector (1996, GNP)

My début in New York! (Details available)

The Beth

lehem

Inn (1996)

I play the part of a servant in the inn. (Details available)

Crossroads to Glory (1997, GNP)

My first serial drama. (Details available)

The Gali

lean Inc

idents (1998)

A seven-episode series portraying Jesus in Galilee (Information available)

Water | Dead Sure | Something of Consequence (1998, GNP)

Little skits done in conjunction with The Gali

lean Inc

idents.

What's it Worth (1998, 1999, GNP)

A skit demonstrating the attitude Chirst intends for us to have. Set at Christmas. I play a businessman.

The Caroler's Gift (1998)

I played the part of the choir leader for this presentation of Clairmont Hills Baptist Church's children's choir. In the play, I take the choristers Christmas carolling (as I had done with some of those same children in reality just two nights beforehand.) Please note that I was not the real choir leader (who was Mrs. M.S. Rickman); I only played the part of one.
Joe Bob is the story of a Texan who goes through strikingly similar circumstances to that of the Biblical Job's. Once again I play multiple rôles: an oilhand and an evil antagonist. (Details available)

Burn­ing Pews (1999, GNP)

I play a preacher who fills up the church pews only after the church house has burnt down.

Sounds of Freedom (1999, GNP)

I deliver a monologue as a Pilgrim.

The Gift Shop (1999, GNP)

I play a clueless Christmas shopper who learns a lesson about consideration and peace.

Slime Time Live (2003)

After a stark gap in my acting life, I paid $50 to enter Universal Studios, where I was momentarily shown as a member of the audience on a cable television show devoted to pouring green gooey goop over people. I think my life as an actor has come to an end.

The Mys

tery of Mo

nt­ley's Manor (2005, GNP)

I play William Trout, an attorney of questionable ethics handling the estate of Che

s­ter R. Mo

nt­ley, III, whose will bestows his fortune to his greedy and squabbling heirs.

Cheaper by the Dozen (2006, GNP)

I play the two-line part of Traffic Cop and also am an off-stage back-up vocalist.

A Christmas Carol (2007, LCT)

I play a father and a businessman, including some choral singing.

Romeo and Juliet (2008, ASC)

I merely came to see the play, but won an on-the-spot lottery, bestowing upon me the part of the Reader of the Prologue. This was my first performance on a stage outside a school or church (Reynold's Restaurant didn't have a stage).

401 Acres (2009, a Rikrox Productions YouTube video)

I play a patent attorney telling the tales of my clients' quests to secure patents. However, I am an inaudible "extra" standing and talking in front of the grandfather clock.

Dearly Departed (2011, WBCT)

I play Clyde, the proprietor of an auto-repair shop who offers assistance to his grieving employee.

Much Ado About Nothing (2012, WBCT)

I play a non-descript swordfighter and the part of the literate watchman George Seacoal.
---

Curtis's home page