In August 1995, I went with seven fellow Georgians to Rudolstadt, Thüringen, Germany.
Georgia-Germany Partnership
The Georgia Baptist Convention and the German Baptist Association have had a partnership since 1991 in which coöperative missions work is carried out.
One request received from a Church in Rudolstadt was that some Baptists from America come and lead in English-teaching programmes both in the church and local high schools (gymnasiums).
Mrs. John Dolvin (Mary) is the coördinatrix for the Literacy Missions Division of the Georgia Baptist Convention and put a blurb in her newsletter, "The Word", seeking those who might be interested in the trip.
I indicated my interest as did others. We ended up forming a team of seven folks, including Mr. & Mrs. Dolvin. We did not really know what to expect; we prepared much material for those of differing levels of English ability. I had been on a previous trip to Hong Kong doing vaguely similar types of things.
Getting to Rudolstadt
We flew on Lufthansa airlines in economy class from Atlanta to Frankfurt. The trip was overnight, yet, of course, I got no sleep.
I had previously looked up on the world-wide web the precise location of an automatic teller machine (ATM) in the Frankfurt airport where I planned to withdraw some German currency using my card on the Plus network. Well, the thing just laughed at my card. I had to exchange some cash at one of those rip-off exchange windows.
At the airport, we rented a van that we would be using during our 1½-week stay in Germany. Although we Americans were all used to automatic transmission, there was none available. Mr. Dolvin became our principal driver.
We headed off on the autobahn but started towards Heidelberg (not on the way to Rudolstadt). After travelling the wrong way for about 30 minutes, we finally turned back and went the right way.
We stopped for lunch at Eisenach where we went to a restaurant in a hotel. To our surprise, people brought their pet dogs and so forth in, which are restricted from restaurants in Georgia.
Nearing Rudolstadt, we filled up with some gasoline and stopped to get something to eat or drink. Gasoline was far more expensive than in America. I don't recall the precise price, but let's just say the last time I got some gas in the U.S., it was for $0.839 per U.S. gallon ($0.22 per litre or 30 pfennig per litre), and I thought that was a bit high.
We apparently missed a turn in Rudolstadt. The German convention of labelling roads was a little bit confusing to us. I made the error of trying to ask some local folks for directions. I pointed to an address I had and hoped that they'd just point to where I need to go. I did know the German words for right and left, and whatever words I picked up from Colonel Klink and Sergeant Schultz, but the vocabulary of the response was far beyond my comprehension. We finally got some police guys to show us where to go.
In Rudolstadt
The church (Evangelisch-Freikirchliche Gemeinde / Rudolstadt) was actually in the back of a townhouse. There was a lobby, a vestibule, an office, the meeting room. Downstairs, there was a kitchen and two big rooms, and a little side room for the youth. We slept up in the attic where there were three little rooms. From one of the little rooms, you could climb out on the terrace roof and go directly to the pastor's apartment in one of the front townhouses.
The pastor met us with his wife and children. The children had just started back to school and had received their customary zuker tüten (candy tote) filled with candy and toys and all sorts of goodies.
That first evening we made our last-minute plans, including the division of the teams when going to the various local schools where we would be going to English classes.
I was assigned with Mr. Dolvin and a college student named Belinda to go to Haus I of the Gymnasium Fridericianium.
At the School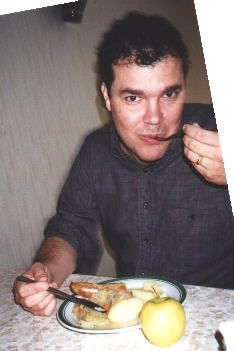 At school, we met Frau R. Schroller, who was a teacher in the English department. Her English accent was one of those you might find up in Pennsylvania, where many German immigrants settled. She was quite pleasant and extremely hospitable.
Throughout our stay at the schools, we talked about ourselves, life in America, our church, our jobs and schooling, the English tongue, and whatever happened to pop into either our minds or the minds of the students.
Many of the students were pleasantly blunt. The first day we had some girl talking about how American churches were hypocritically uncaring social organisations that whose practices were diametrically opposite of their preaching. Although she was indeed right about many social clubs that call themselves "churches", it was our task to convey God's glory with our own deeds and behaviour which I hope she recognised as distinct from the embarrassing, yet prevalent, examples she had based her ideas upon.
I gained far more insight into the thoughts of Germany and the future of Germany, than I could have ever experienced if I were a tourist. I hope that they also were able to accept some of my thoughts and, perchance, hold some of those thoughts dear in their own lives.
One day, we went to a school in the neighbouring town of Bad Blankenburg. The contrasts between the two schools were rather interesting.
In Bad Blankenburg, many students enjoyed the traditional folk dances, music, and culture of Old Germany. In Rudolstadt, many students seemed more interested in discarding the old and adopting a new way. Students at both schools were kind enough to show us around their local castle atop their local hill.
Englisch Live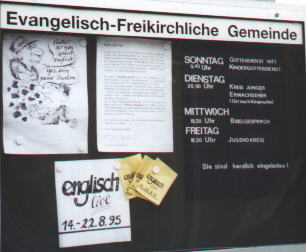 "Englisch Live" was the name of a programme we held in the afternoons at the church. I think the church charged 10 marks for folks to come, in order to pay for our food and stuff like that; in that way, I felt rather bad. Anyway, I know that I personally didn't charge anyone any money.
Here we did everything from play games, teach English, get taught German, eat, drink, and sing.
One of the songs that the folks liked best was "Rise and Shine" (the one about Noah and the Arky, Arky). I almost felt embarrassed to sing it at first, but they really seemed to enjoy it a lot.
One thing that surprised me (but probably wouldn't have if I had thought about it a little bit more), is that a lot of people knew Russian as a second language.
Amerika Abend (America Evening)
At the church on Thursday night, we had a bunch of people come. A lot of the teachers from the schools we had been working with as well as a lot of the students came.
Belinda and I had written a skit about some of our adventures getting to Rudolstadt. We didn't think that it was exceptionally funny--perhaps it had a few too many inside jokes, but it apparently was funny enough to be called "the highlight of the evening" according to an article in the local newspaper.
We just had a good old time with a few games, songs, and them laughing at us cause we're some foreigners.
Revival Services
The next few nights we had these "Revival services" which were really more like American Sunday-School (except they weren't on Sunday), where we had a large-group time and then split up by tables into little groups.
I sang this one song called Help Me Stand, Lord. It went well in spite of some stage fright before I started to sing.
A lot of people didn't show up for the Revival (on Friday and Saturday evenings) because they were the two opening nights of the Vogelschießen, a big fair which came to Rudolstadt.
Tourism in Erfurt
On Saturday morning and afternoon, we went up to the town of Erfurt for shopping and tourism. It was my least favourite part of the trip. I did enjoy dinner, however, where our meal included the Thüringer national dish, klöße (which I suppose could be Anglicised to kloesse), which is essentially a minced potato ball with a bit of special breading in it.
Once I went up the belfry tower of a Methodist church with Belinda. Belinda actually rang the bell, which could be heard throughout the town, embarrassing me in the same area.
Sunday
After the church service, which was interpreted from the German for me by a South African woman whom I hereby thank, I went to have dinner with the family of Herr Marzahn, an editorial cartoonist for the local newspaper. It was good. We also saw his sons' elaborate model train setup in his room. We also went outside to see the parade which began out on the plaza right outside of his flat.
Later on that afternoon we went to a small cave which had centuries of human construction in it. On our way back, we stopped at a roadside picnic area to have tea & biscuits, complete with china service.
Some of the roads were flooded, so we had to go a long way out of our way.
The Vogelschießen
Monday, after our teaching at the school, we went to the local fair, continuing on through the week. The German schoolchildren told me that vogelschießen means "shooting of a wooden bird", which is the main event around which the fair was founded. I believe this was the 273rd annual Vogelschießen.
The second and third articles in the local paper were about my entry in an archery contest at the fair.